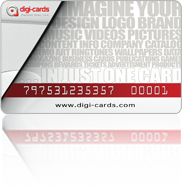 About Digi-Cards
Digi-Cards™ came to life in 2004 in the United States under a worldwide patent that is pending. The Digi-Cards™ system is a revolutionary method that delivers content through a download card, database management and integrated solutions that apply to any specific industry. Digi-Cards™ has the ability to ship its variety of products all over the world. The worldwide headquarters are based in the City of Miami, Florida.
The variety of content that our clients can offer to customers makes Digi-Cards™ the number one tool used to develop the most effective marketing strategies and advertising campaigns on the market. It is the best way to sell, promote and distribute your product, content, information and business. For all these reasons Digi-Cards™ is "The Most Powerful Download Card in the World!"
What is a Digi-Card?
Digi-Cards™ is a download card. It hosts any kind of content which is stored on our secure servers, allowing the end user to download or stream: music, videos, photos, ringtones, books, documents and much more. Digi-Cards™ is a tool that physically resembles a credit card. It is customizable, affordable and compatible with all computers, cell phones, iPods, smart phones and other equipment on the market.

Digi-Cards are extremely easy to use
They are less expensive to produce and manufacture compared to Cd's, Dvd's, Magazines, Books, etc.
The Cards, shipping, card design, download page, download page design, widget, codes, magnetic stripe, back-end page are included in the price
Their credit card like size makes them very easy to sell, carry or distribute at concerts, stores, retail stores, promotions or events
They take up less counter space and packaging
You could design the cards, widget and download page yourself with templates or our team could create it for you
Back-end page with data, maps and e-mail listings of your users. This database is collected by a form filled out before accessing the download page
Plastic is recyclable
Could be used as an event ticket, boarding pass, hotel key, VIP pass or business card
You can change the language on the download page and instructions on the back of the card (English, Spanish, German, Italian, French, Portuguese, Japanese and more are available)
The content is stored on secure servers in United States
We verify, scan and upload all the content (the first upload is included in the price)
The content could be downloadable or streamed (you can select how many times content could be downloaded)
Card capacity can be from 1MB up to 2.5GB. You can choose from two types of cards: Digi-Cards(DC) or Retail Ready (RR)
Expiry date option is available
Each card has a unique and singular access number (pin) which makes them impossible to replicate (anti-piracy)
Compatible with Pc's, Mac's, Smart Phones, Cell Phones, iPods, iPads, Laptops, Blackberries and other devices in the market
Compatible with all web browsers: Explorer, Firefox, Safari...
Our company maintains records of all intellectual property release forms from our clients