Digi-Card (DC)

Our most popular card is presented as a credit card, it can be customized with your design, easy to carry and perfect to sell or promote your product to your end-users. Minimum order 500.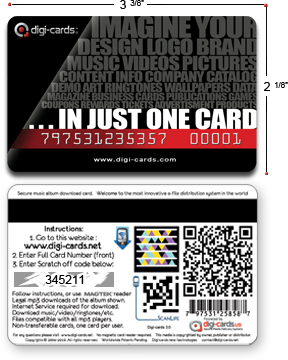 Retail Ready (RR)

The RR card can be customized and perfect to sell your product at retail stores. Minimum order 1000.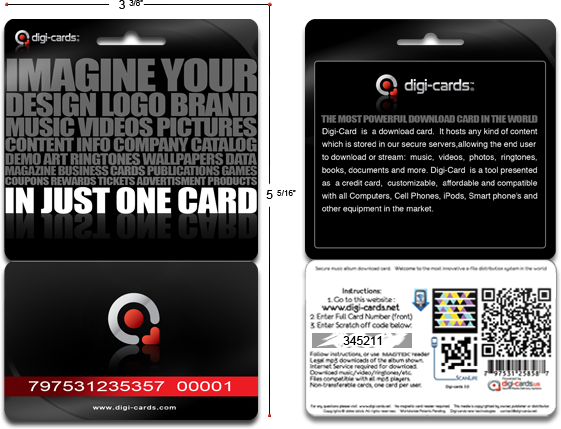 Download Systems
The end user needs Internet access to download the card's content. Digi-Cards offers two different kinds of download systems, compatible with all web browsers. Digi-Cards customers can choose from one of these systems or a combination of both.
1
Standard
Allow the users to download all the offered content.
2
Select
Give the user a specified number of downloads from a list of content.
Content
1

You could have in your download page any digitalizable content.

2

Your content could be organized and classified in different categories and/or separated by tabs.

3

Content can be changed or upgraded at any time. You would be able to notify your customers/clients through the database.

4

You have the ability to permit your customers to download your content as many times as you decide and/or have an expiration date.

5

Depending on your card, you will have access to a download capacity of 250Mb up to 2.5Gb.
Content Formats
Once you have placed an order, our team will send you a link. You will be able to upload the content and transfer your files.
Acceptable formats

Music: .mp3 .wav .aiff .aac
Video: .mov .mpeg
Documents: .pdf .doc .xls .ppt
Pictures: .jpg .jpeg .tiff .ai .psd
Ringtones: .m4r
Any other content, please, consult with us before uploading.
What does your order include?
Presented as a credit card with embossed numbers on all its applications.

Our design team could design your cards upon request with your supervision/approval or you could design it by downloading our templates.

You could customize your download page with your design or our design team could design it upon request.

With your order, you will receive an access key to enter a page which will give you total control and management of your users records, such as names, emails, ip addresses and more.

Delivery is included in the price to one location, anywhere in the world.

Content will be uploaded one time as soon as our team receives it all in the proper formats.

* for re-uploads an extra cost will apply.

You may place our FREE widget on your webpage to direct users to the download page. If you don't have a webpage, users can access your content though digi-cards.net.

* for custom widgets an extra cost will apply.

Depending on the amount of content you may choose your capacity of 250Mb or 2.5Gb per order.

Every card has a unique PIN code in the back of the card which is hidden under a scratch off area.

In the back of every card you will find 3 types of 2D barcodes which allows smart phones and mobile devices to access and download the content.

The Universal Product Code (UPC) is a barcode widely used for store selling purposes.

Each card has a programmable magnetic stripe, you could choose to program it or not. For example, it could be used as an event ticket or hotel key.